EQUIP
Greater Baton Rouge nonprofits operate effectively and demonstrate impact
THE NONPROFIT CAPACITY BUILDING INSTITUTE

PRINCIPLES & BEST PRACTICES FOR NONPROFITS
In partnership with the Louisiana Alliance for Nonprofits (formerly LANO), Huey and Angelina Wilson Foundation is pleased to present the Nonprofit Capacity Building Institute: Principles & Best Practices for Nonprofits. The Institute is an intensive, 12-month program focused on strengthening organizational capacity, measurable outcomes, community impact, and operational effectiveness.
The Institute will run March 2023 thru February 2024. In a cohort-based approach to capacity building, you will participate in small group convenings around specific topics paired with shared learning opportunities to discuss mutual issues, learning from the challenges and solutions of peers, and problem solving together. Each session will be facilitated by a content expert who will guide the cohort, frame each session, and offer tools and resources. In addition, participants will have access to support by Resilia, a tech platform and consultancy that provides extensive support, resources, and one-on-one coaching.
The Institute begins with an organizational assessment followed by a virtual introductory session, 12 weekly 3-hour in-person class sessions March thru May) and two planning sessions focused on future planning and goal setting. Selected organizations must commit one lead participant to attend all sessions, plus one other appropriate person based on the session topic. The Institute will be intense, and attendance is critical to your success. We value your time and will ensure that each session is worthy of your commitment.
In-Person Session Topics
Management, Leadership & Governance
Organizational Assessments with Resilia
Financial Management: Optimal Budgeting for Nonprofits
Human Resources: Building the Right Team: Performance Management
Strategic Partnerships
Board Development: Effective Communication and Utilization
Effectively Collecting and Using Data – What's in the Numbers?
Marketing, Communications, Fundraising and Development
Marketing and Communication: Brand Management and Story Telling
Marketing and Communication: Using Social Media Effectively
Fundraising and Special Event Planning
Effective Grant Writing and Grant Management
Telling your Story Effectively for Reporting and Fundraising
Assessment and Next Steps: Developing a 3-month plan with Resilia
Creating a Culture of Inclusion: Diversity, Equity and Inclusion
October 2023: Check-in and Progress Report with Resilia
February 2024: Final session for nonprofits with Resilia and Reception
100 Black Men of Metropolitan Baton Rouge
Baton Rouge Children's Advocacy Center
Big Buddy Program
Capital Area CASA Association
Capital Area Family Justice Center
Christian Outreach Center Of Baton Rouge
Cristo Rey Baton Rouge Franciscan High School
East Baton Rouge Truancy Assessment
Empower 225
Epilepsy Alliance Louisiana
Family Service of Greater Baton Rouge
Gardere Initiative
Grandparents Raising Grandchildren Information Center Of La
Habitat for Humanity of Greater Baton Rouge
HOPE Ministries Of Baton Rouge
Humanities Amped
Interfaith Federation of Greater Baton Rouge
Line 4 Line
Louisiana Area Women in Ministry
Louisiana Hemophilia Foundation
Louisiana Industries for the Disabled
Louisiana Parole Project
Louisiana Resource Center for Educator
O'Brien House
One Touch Ministry
Providence Road Outreach Mission
Rebuilding Together Baton Rouge
SocialWorx Institute
Southeast Louisiana Legal Services Corporation
St. Vincent de Paul
The Arc of East Ascension
Urban Restoration Enhancement Corporation
Youth Oasis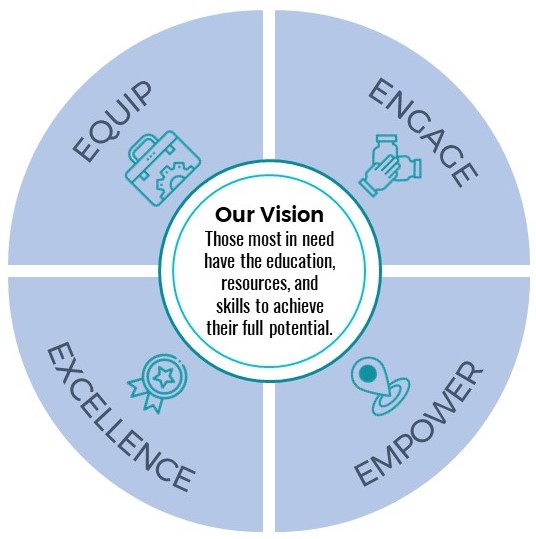 HAVE A QUESTION?
[powr-form-builder id=wilson_form]
We'd love to hear from you! Whether you're working on an application, want to share good news, or need to brainstorm a new idea, we appreciate every opportunity to visit and learn with you.
© 2018 Huey and Angelina Wilson Foundation