NBR Place-Based Strategy
Building pathways to flourishing communities.

The Fairfields, Eden Park/Greenville Extension, Easy Town and Northdale neighborhoods have a rich history grounded by families who have called the area home for decades. Located north of Mid-City, these communities are home to the historic Capitol High School and the brand-new Park Elementary School, with proximity to Memorial Stadium, the Governor's Mansion and Capitol Complex, and Baton Rouge General Mid-City.
At the same time, historic underinvestment in the area has led to lack of critical infrastructure and significant health and wealth disparities. We believe strong and stable neighborhoods widen the pathways to prosperity for all neighbors, making this area one where Huey and Angelina Wilson Foundation will concentrate its grantmaking and program support for the long term. 
The area of impact is marked by a strong sense of culture and community that is guided by gifted local leaders and longtime dedicated residents. Huey and Angelina Wilson will work alongside residents to focus its grantmaking efforts on a three-square mile area in the 70802 ZIP code bounded by North 15th Street to the west, Choctaw Drive to the north, North Street to the south, and North Foster Drive to the east.
Residents, public agencies, private, and nonprofit partners have come together to shift the trajectory of this area by employing the Purpose Built Communities place-based model which prioritizes four pillars including: the development of mixed-income housing, a place-based cradle-to-college education strategy, community wellness and economic vitality. In this neighborhood revitalization model, the nonprofit "community quarterback" organization will work to ensure collaboration among partners, resident engagement, and accountability towards achieving long-term goals.
Mixed-Income Housing
Safe, high-quality, affordable housing leads to better education, employment and health outcomes. Data shows that ownership pathways increase the likelihood of building generational wealth for families. The goal of this focus area is the creation and preservation of housing opportunities that serve residents at various income levels, with a focus on long-term, permanent affordability.
Cradle-to-College/Career Education
We know that access to quality education from birth to college, career, and beyond reduces economic inequalities and powers prosperous communities. The goal of this focus area is the creation of neighborhood-serving continuums for student growth, learning, and achievement for students of all backgrounds at every level.
Community Wellness
Families cannot thrive if they lack access to essential services, commerce, recreation, or are persistently exposed to unsafe living or environmental conditions. The goal of this focus area is increased access to facilities, programs, goods and services that reflect the needs and priorities of residents, promote healthy lifestyles, and reduce crime.
Economic Vitality
A vital economy is one that includes strategies to increase workforce pathways, build wealth, and stimulate opportunities for economic growth. The goal of this focus area is to support resident employment, increase community investment, and promote the start-up and growth of small businesses.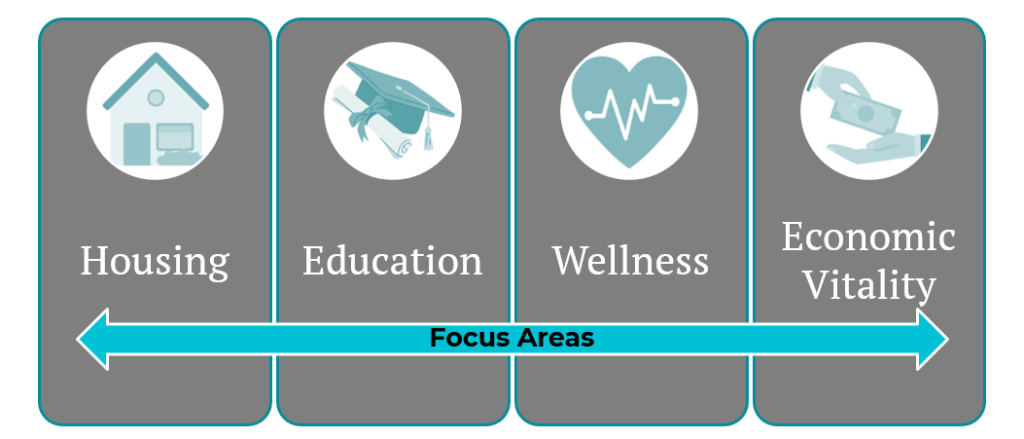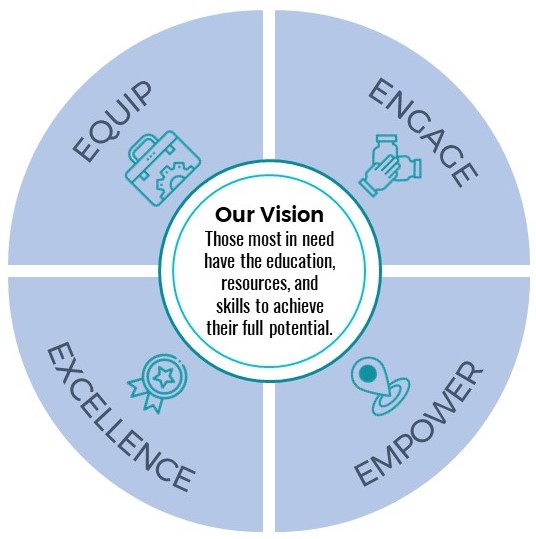 HAVE A QUESTION?
[powr-form-builder id=wilson_form]
We'd love to hear from you! Whether you're working on an application, want to share good news, or need to brainstorm a new idea, we appreciate every opportunity to visit and learn with you.
© 2018 Huey and Angelina Wilson Foundation