EQUIP
A focus on the nonprofit sector.

Many communities across the country have faced the same issues as the Greater Baton Rouge area, where families are challenged to meet everyday concerns. Mr. and Mrs. Wilson believed communities should use their local talents and resources to solve problems. They believed that strong leaders can inspire, focus, and dedicate themselves to eliminating barriers and addressing the root causes of problems. 
The Foundation is dedicated to investing in nonprofit leaders and their organizations that work to transform the community. By providing resources, the Foundation strives to increase the operational effectiveness of area nonprofits and strengthens their capacity to address the social and economic problems of our community. 
The Foundation will focus its efforts on capacity building to achieve these goals: 
Build leadership skills and pipeline

 

Create strategic plans with metrics

 

Maintain cash reserves to cover 3 months of operating expenses

 

Support collaborations and partnerships

 

Encourage creation of disaster preparedness/continuity of operations plans

 
NONPROFIT CAPACITY BUILDING INSTITUTE
In partnership with the Louisiana Alliance for Nonprofits (formerly LANO), Huey and Angelina Wilson Foundation is pleased to present the Nonprofit Capacity Building Institute: Principles & Best Practices for Nonprofits. The Institute is an intensive, 12-month program focused on strengthening organizational capacity, measurable outcomes, community impact, and operational effectiveness. The first cohort launched August 10, 2022. For more information, visit the Nonprofit Capacity Building Institute.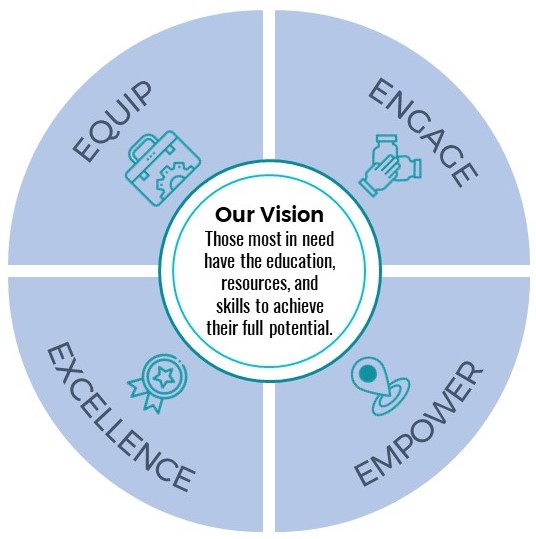 HAVE A QUESTION?
[powr-form-builder id=wilson_form]
We'd love to hear from you! Whether you're working on an application, want to share good news, or need to brainstorm a new idea, we appreciate every opportunity to visit and learn with you.
© 2018 Huey and Angelina Wilson Foundation