EMPOWER
A focus on place.

Whether local is a block, a neighborhood, or a community, the Foundation will serve as a catalyst for place-based collaboration focused on creating economic mobility, increasing access to quality education and housing, and improving health outcomes. 
To inform this work, a focus on the data in our 10-parish service area led us to prioritize the eight ZIP codes that comprise the area typically referred to as North Baton Rouge. Forty percent of the parish resides in North Baton Rouge, and the population accounts for 20 percent of the region. Though these neighborhoods comprise a significant portion of the regional population, they are also where social and economic challenges are concentrated with respect to transit, crime, and income as a result of disinvestment. 
The Engage pillar focuses on
strengthening
our most vulnerable neighborhoods with these specific goals:
Increase percentage of children ready for Kindergarten

 

Increase percentage of children reading on level by 3rd grade

 

Increase high school graduation rate

 

Decrease percentage of families who spend more than

30 percent of household income on housing

 

Increase positive community health and well-being
The Foundation will support placed-based programs that center resident voice and vision. Projects that focus on quality housing, educational opportunity, family stability and economic mobility will be prioritized.
Check back in early 2023 for more information regarding program guidelines and funding opportunities.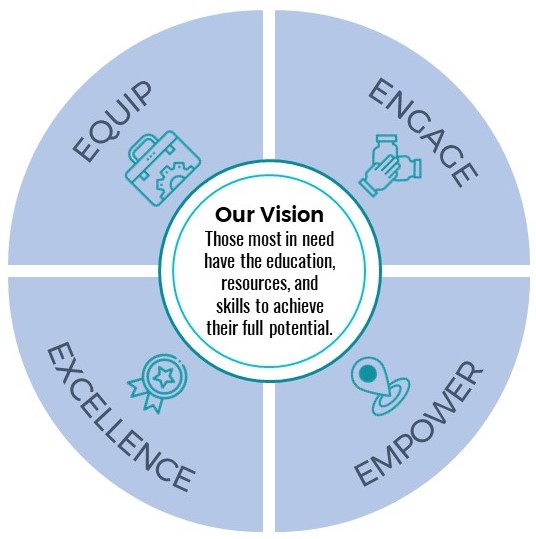 HAVE A QUESTION?
[powr-form-builder id=wilson_form]
We'd love to hear from you! Whether you're working on an application, want to share good news, or need to brainstorm a new idea, we appreciate every opportunity to visit and learn with you.
© 2018 Huey and Angelina Wilson Foundation