EMPOWER
A focus on place.

Whether place is defined as a block, neighborhood, or community, the Foundation will serve as a catalyst for place-based collaboration to help residents create and sustain opportunities to thrive.
To inform this work, a focus on the data in our 10-parish service area has led us to prioritize six ZIP codes in the area typically referred to as North Baton Rouge. Over 124,000 residents live in these neighborhoods that are rich with history and culture and comprise a significant portion of the regional population. They are also areas where social and economic challenges are concentrated with respect to transit, crime, and income as a result of disinvestment. 
Through the Empower pillar, Huey and Angelina Wilson Foundation will serve as a catalyst for place-based collaboration focused on improving outcomes for children and families residing in ZIP codes 70802, 70805, 70806, 70807, 70811, and 70812. Empower focus areas include:
Housing: Programs that create and preserve housing opportunities that serve residents at various income levels;
Education: Programs that establish neighborhood supports for student growth, learning, and achievement for students of all ages and backgrounds;
Community Wellness: Programs that increase access to facilities, programs, goods and services that reflect the needs and priorities of residents, promote healthy lifestyles, and reduce crime; and
Economic Vitality: Programs that support resident employment, increase community investment, and promote the start-up and growth of small businesses.
The Foundation kicked off the application cycle with a virtual applicant workshop held on Wednesday, January 25th. If you were unable to attend or need to refer to the information provided, the presentation slide deck and video recording are available.
This will be a two-step application process as outlined below:
Prospective program partners are invited to submit a short Letter of Intent (LOI) online with a submission deadline of 5:00 p.m. February 1, 2023.
Please fully review the Empower Grant Guidelines and the LOI Questions prior to submission. Providing a summary of your request will allow Foundation staff to determine if your program or project is in line with Empower goals before you complete a full application.
Organizations that successfully submit an LOI and are selected to submit a full grant application will be notified by February 6, 2023. 
January 25th: Applicant Workshop
January 31st: Open House Session 1 10:00 a.m. – 11:00 a.m. and Open House Session 2 2:00 p.m. – 3:00 p.m.
February 1st: Letters of Intent due by 5:00 p.m.
February 6th: Invitations for full applications sent
February 24th: Full applications due by 5:00 p.m.
March 27th – April 7th: Site visits
May 15th: Applicants notified of award
Huey and Angelina Wilson Foundation will support programming that serves residents of North Baton Rouge and centers their voice and vision in approach and outcomes. We will support grantees that help residents and communities get the support they need to achieve long-term, sustainable change.
The Foundation will make four types of investments within the Empower pillar: Direct Service, Capacity & Collaboration Building, Systems Change, and Capital.
Direct Service (Program Support): New or existing programs that make positive gains for individuals and/or families in North Baton Rouge.
Partnerships & Collaborations: Formalized partnerships, coalition building efforts and/or continuums that strengthen the collaboration of organizations to achieve enhanced results.
Systems Change: Awareness, research and advocacy efforts addressing community issues of concern that result in changes to policy or practice.
Capital: Building purchase, construction, expansion, renovation, and/or land acquisition.
Place-based philanthropy describes an approach that targets a specific location-be it a community, neighborhood, or ZIP code-upon which to focus resources to make a transformative impact. Successful applicants for this pillar will:
Serve participants who reside in ZIP codes 70802, 70805, 70806, 70807, 70811, and 70812. Organizations will have programming that is intentional in outreach and implementation for residents in these specific ZIP codes.
Value community engagement. Organizations must demonstrate they are prioritizing resident voice and doing projects "with" rather than "to" the community they serve.
Demonstrate effectiveness. Organizations will have the capacity to carry out the proposed work and have the appropriate evaluation measures in place (or are willing/able to establish those measures) to determine success in contributing to positive outcomes.
Programs must address one or more of the Empower focus areas of Housing, Education, Community Wellness, and Economic Vitality as outlined in the Empower Grant Guidelines.
If you believe your project is a good fit with the Foundation's funding priorities and values but need more information or are a first-time applicant, please contact Ebony Starks.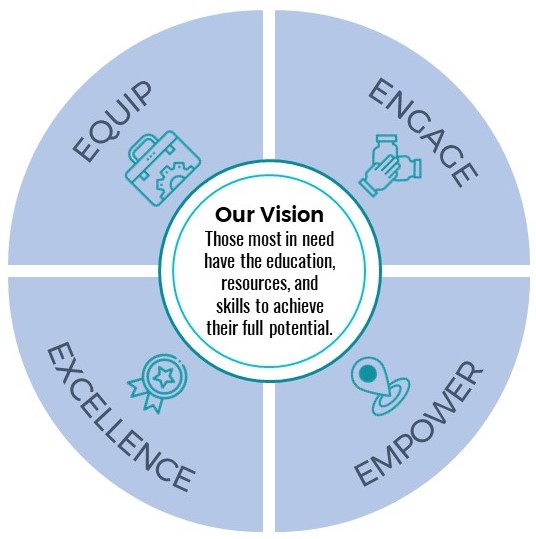 HAVE A QUESTION?
[powr-form-builder id=wilson_form]
We'd love to hear from you! Whether you're working on an application, want to share good news, or need to brainstorm a new idea, we appreciate every opportunity to visit and learn with you.
© 2018 Huey and Angelina Wilson Foundation